You have many options for exterior signage in Atlanta and one in particular we would like to look at is projecting signage.  By projecting signage we mean an exterior sign that extends away from a building, perpendicular to the façade.  Projecting signs generally fall into two categories:
Blade signs that project directly from the face of the building and do not hang from a pole bracket.
Hanging signs which are suspended from a pole bracket which together with a pole mount is secured to the face of the building.
United Signs provides custom made projecting signs to Georgia businesses and throughout the Southeast.  We can fabricate projecting signs from a variety of materials and can customize them by means of high-resolution images, stylized fonts, color combinations, brands and logos.  Our expert design team will work with your Roswell business to ensure the final product is consistent with your company's location, setting, and brand.
A typical projecting sign that you may find in Alpharetta for example is not illuminated.  There are a few reasons you may not want an illuminated projecting sign:
They might disturb neighbors at night, depending on the proximity of the sign to a residential area.
If your business hours are primarily daylight hours, an illuminated sign may not be necessary as a non-illuminated sign will be sufficient to attract customers during the day.
Often there are overhead lights and street lights in the area near your storefront that make illuminating your sign unnecessary.
All of that said, your Marietta projecting sign can indeed be illuminated, for example, with neon and LED lighting which can be visually attractive both day and night.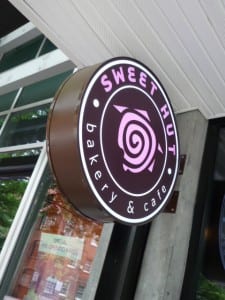 Projecting signs are particularly suited to storefronts where there is a high volume of foot traffic.  Sticking out away from your East Cobb building they offer two-sided visibility that you can't get from a flat wall sign and are visible at a much greater distance.  They also make excellent wayfinding tools that can guide the public to common destinations.
If you think a projecting sign is a viable option for your business or have any questions about this form of exterior signage call United Signs of Peachtree Corners at 678-203-6044 or submit our no-obligation contact form.  Our team will gladly assist you.
---
UNITED SIGNS is Georgia's Premier Full Service Architectural Sign Company. We provide custom sign designs, in-house sign fabrication, and installation of every type of sign.  We service all of Metro Atlanta, and many other Georgia communities. We have designed & fabricated signs nationwide from New York to California for national chains, franchise & major corporations.  UNITED SIGNS is a provider of Corporate, commercial, Government & Institutional signage.
 The UNITED SIGNS staff is a professional and talented team of designers, fabricators, and installers who take great pride in helping Georgia businesses with their sign needs.