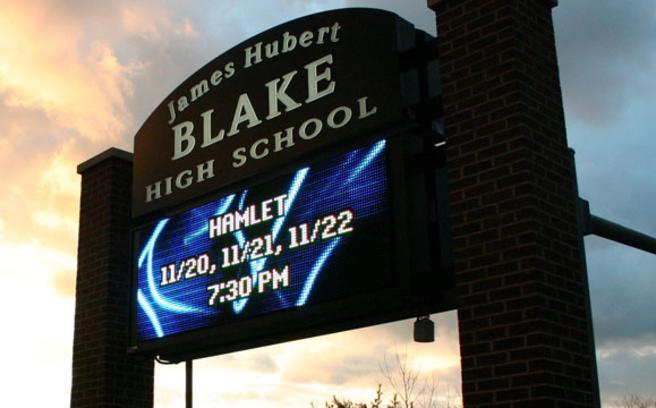 School Signs – Outdoor School Signage
Check out what we did with the Fulton County Schools here!
United Signs has designed and manufactured school signs for schools all over the Southeast. We've served clients throughout the Metro Atlanta Area from our Atlanta facility since 1981 – giving us over 25 years of experience designing, manufacturing, installing and maintaining a variety of types of school signage, including interior and exterior channel letter signs, wayfinding and ADA signage, monument signage, projecting signs, flagpoles and other types of indoor and outdoor school signs. Please contact us to learn more.

Since the early 1980's, United Signs has provided a wide range of our products and services to support State, Local and Federal government initiatives. During that time, we have created an easy way of doing business, and building the products you need to gain attention, publicize donors, and communicate your messages. Because our company designs and builds government signs, business signs, and is a manufacturer of school signs we're able to draw upon the best practices, proven processes, and lessons learned of all areas to bring greater depth and effectiveness to the sign projects we take on.  Whether the project is a college sign, high school sign, middle school sign, or elementary school sign, we design and build all types of indoor and outdoor school signs.
United Signs School Signs business can design eye catching school road signs and associated directional sign packages to identify your school and provide an easy and flexible messaging capability, create an effective and flexible interior sign package, design build and install a first rate scoreboard, and create and help you manage fund raising activities for your school programs, athletics, band, etc.
The goal is to support the teaching activities of our education professional partners by taking workload from them and delivering products to make their efforts more productive and more directed towards teaching our next generation.
School Signs = School Spirit
Picture the improved attendance on parent teacher conference nights, PTO meetings, athletic events, and increased donations to fund the best technological advancements in athletic gear to protect players.  See the better interior identification of classrooms to make the transition of a new student easier, or assisting a parent trying to find a classroom for a parent teacher conference.  Imagine the thrill an athlete will feel hearing the roar of the crowd, upon making a game changing play.  Signage and messaging will help deliver these experiences.  Give the sign professionals at United Signs a call today and let's get started making your school an AWESOME place!  Make United Signs your school system's school sign manufacturer of choice!
School Signs With Your Specifications In Mind

United Sign's procedure is simple: we meet with you to learn your signage requirements, create a to-scale model that meets both your aesthetic and business requirements and fabricate the design in our expansive North Georgia facility. Our Installation team will then erect and maintain your indoor or outdoor school signs on your school's premises.

Contact United Signs For Cost-Effective School Signage

Does your school need new school signs? Get in touch with our experts today – fill out our FREE, no-obligation contact form located at the top of our page, or call today with your school signage requirements.