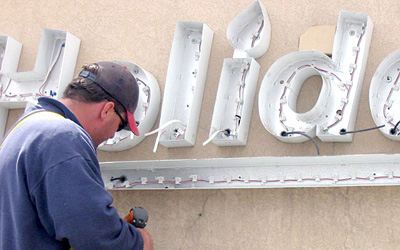 Sign Retrofitting
Retrofitting

Update your signage and systems with retrofitting services from United Signs. We understand the need to keep your signage current (and environmentally friendly), and we offer help with retrofitting your signage to produce green signs. Additionally, we'll update your LED signs, solar signs, solar sign products and other types of new technology and energy efficient equipment for your company.

Whether You Need Green Signs or Parts Replacement, We're the Company For You

United Signs will meet with you to understand your requirements – lately, we've been helping many customers adapt to new green signs and other energy-efficient technology. We'll create the signage that you need and install it (or affix it to your current signage as needed). Please contact us to learn more about the LED signs, solar signs and other types of traditional and illuminated signage that we produce.

United Signs – LED Signs and More

Contact United Signs today to learn more about our signs and services. From green signs to LED signs, we have all of the energy efficient equipment that your company needs. Call us with your requirements or fill out our no-obligation contact form for your FREE estimate.