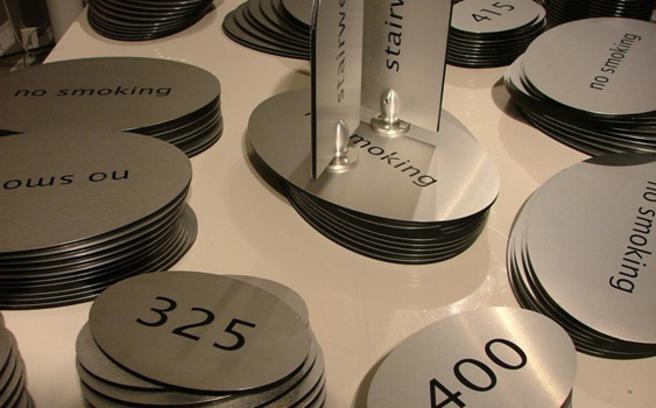 Hotel Signs – Hotel Signage – Atlanta, Georgia
United Signs has the experience and the personnel to create the quality hotel signs that you need. We design and manufacture a variety of interior and exterior hotel signage types, including outdoor name/address signs, electronic message boards/digital graphics, wayfinding signs/ADA signs, neon signage, monument signage, pylon signs, projecting signs and flagpoles. We employ a friendly and dedicated staff who can design and fabricate the signage that your hotel needs. Our company serves clients throughout the Southeast from our North Georgia facilities, and we look forward to meeting your company's requirements.

Hotel Signs Design & Installation

Our staff will help you choose the functional and attractive hotel signage that suits the needs of your business. Then, we'll do all of the work – our Administrative staff will research all permit requirements and municipal codes relating to custom signs and obtain all permits required to install your exterior signage or interior signs, our Design and Graphics staff will design a to-scale model and our Fabrication staff will manufacture your hotel signs in our secure North Georgia facilities. We will then install the signage on your hotel property and provide regular maintenance and servicing.

Hotel Signs
United Signs understands that hotel signs have a unique place within the industry. These wayfinding elements direct customers to the site, to the front desk for check in and to their rooms and other amenities the site offers. We've created signs for large brands and local hotels, so we're the experts when it comes to all your needs for hotel signs!
When a potential customer exits a highway, or approaches a hotel, typically, there are others in the same area. The first wayfinding sign hotel sign a potential guest will see is most likely is a pylon sign (like the one pictured above). United Signs can provide you with a hotel sign that can be seen for miles!
In addition to your hotel's exterior signs, our team can also provide interior hotel signs for your facility. Once on the property, this customer needs to easily locate their room, an exercise facility, the front desk, a breakfast area and other amenities.  A group of interior signs that carry the hotel's branding throughout the facility will help reinforce the impression of your brand and direct customers efficiently through the property.
Interior Hotel Signs
Interior hotel signs are an essential component to the success of any hotel. These signs help your guests easily navigate during their stay, as well as help them locate any amenities within your hotel they may be looking for. Deciding which interior signs would be best for your business isn't always easy. Below we have listed some of our most popular and commonly ordered interior signs to give you an idea of what other business owners are using in their hotels.
Room Number Signs
Room number signs are by-far one of today's most commonly utilized interior hotel sign. Room numbers help your clients differentiate each room and find their own. Room number signs are arguably one of the most important because this is the sign your guest cares most about. It is very important that your room number sign represents your brand and quality of your business.
Directory Signs
Another important interior sign in hotels are directory signs. Straight and to the point, directional signs are the go-to for hotel guests to find everything they need while staying at your business. Directional signs help show off the many different amenities that your hotel has to offer. Using directional signs, guests will associate your hotel with being the business that can cater to all of their traveling needs. A few examples of features that hotel owners can use directional signs for include: laundry rooms, pool rooms, gym, restrooms and elevators.
Exit Signs
Hotel exit signs serve as a vital purpose of not only directing traffic, but informing hotel guests of where to go in the case of an emergency. Exit signs can include signs directing people to exit doors, stairwells, and designated handicap exits.
Hotel signs are a vital part in setting the tone for your guest's experience with your business. Let United Signs help to set your hotel and business ahead of the rest and ensure your customers will be satisfied with their stay. Contact us and learn more about our custom manufactured interior hotel signs!
Hotel Signs: What's the Message?
Whether you have owned hotels for 30-years or are just breaking into the hotel industry, knowing what hotel signs are right for you can sometimes be an overwhelming and difficult process. There are a multitude of factors that can come into play when deciding what types of hotel signs to purchase. Below we have listed some helpful tips and questions to ask yourself on how to determine which signs are the best fit your establishment.
Where Is Your Hotel Located?
Your hotel is location can heavily influence what types of signs will bring your business the most amount of success. For example, if you are located in a colder and more frigid environment then you may want to invest in a road sign that displays appropriate amenities you offer, like a sauna. Now let's say you are located in a much warmer climate, like that of Miami, Fl. In this situation you may want to invest in billboard advertisement that tells vacations about the pool your hotel offers. Factoring in the location of your business is essential because consumers in different areas also have different wants and needs.
What Amenities Does Your Hotel Offer?
As we discussed earlier, consumers all have different wants and needs, but the main thing to keep in mind is that ALL consumers have wants. Location aside, most individuals look for the comfort of home and luxury treatment when deciding what kind of hotel to choose. This is why we suggest always advertising the different luxuries your business has to offer, whether it be a spa or pool. You can advertise the things using a couple different types of signs. First you can simply use and large, standard pylon hotel sign with your logo outside your hotel and advertise them on that sign.
What Are Your Rates?
Price is going to be one of the largest factors consumers use to make a decision on what hotel to stay with. This is why it is crucial to properly advertise the rates for your business. Travelers for instance will find themselves instantly draw to the hotel with lowest rates, then they will begin to factor in those amenities we focused on earlier. For ensuring your competitive rates are not over-looked, we suggest using a large LED sign right outside of your business. These signs are guaranteed to catch the eye of the many travelers and tourists search an unfamiliar area for a place to stay.
Knowing what type of hotel sign to use for your business can be an easy and effortless process. For more information or tips on what sign is best for you and your business, Contact us today. Let United Signs help attract customers to your hotel with you by investing in a custom-made hotel sign!
FAQ
Today hotel signs include anything from signs that state each of the room numbers to signs that show guests where different amenities, like a pool, are located. In order to choose the right signs for your hotel's clientele, check out some of our frequently asked questions.
Q: Why should I invest in hotel signs?
A: Hotel signs are what set your brand apart from other hotels in the industry. If a customer has had a positive experience at your business more than likely that will look for your brand or hotel exit sign when they get off the highway to stay the night somewhere.
Q: Why should I bother getting a hotel sign that can be seen from the highway?
A: When a potential customer gets off of the highway there is usually several different hotel options. Having a clean and polished hotel sign will persuade customers to do business with your hotel verses a hotel that doesn't have one.
Q: How do I know what kind of signs to use inside my hotel?
A: When it comes to choosing interior signs, try to put yourself in the place of the customer. Once the customer has made the decision to stay at your hotel, you want them to not only know about all of the great features they offer, but be able to find them as well! Interior signs help customers effortlessly navigate their way around your hotel!
Q: Should I use my brand on my interior signs?
A: Using your hotel's brand or logo not only on the exterior sign of your hotel, but on the interior hotel signs reinforces your brand.
United Signs Hotel Signs
Hotel Signs are a crucial part in ensuring your hotel's guests have the most positive experience possible. Let United Signs help to set your business aside from the rest and ensure your customers have a positive experience! For more information about our signs or complete branding solutions, feel free to send us an email or give our sales team a call at (678) 203-6044.
Hotel Signage by United Signs

Please contact United Signs for assistance with hotel signs creation and installation. Fill out our no-obligation contact form to receive your FREE estimate or call us with your requirements today.