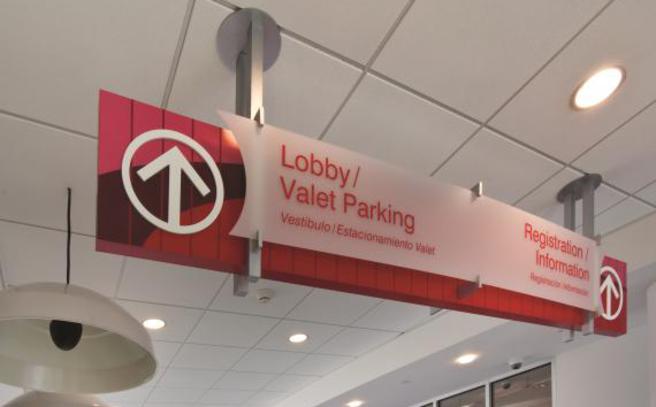 Overhead Signage – Overhead Signs 
Overhead Signs can present many challenges related to installation. United Signs has extensive experience designing, fabricating and installing overhead signs and offers a broad range of pre engineered solutions compatible with virtually any wall or ceiling. Options include light weight panels of our Standard System and the modular aluminum solutions. Our outdoor products offer the durability needed for exterior environments such as parking garages.

Top-Quality Overhead Signage

From securing clearance for your overhead signage to sign installation, United Signs is the company that you need for the overhead signs that you've been looking for. Our trained and talented Graphics and Design staff will meet with you to understand your requirements, and will then create a signage model that takes your company's aesthetic and business concerns into account. We serve businesses throughout Metro Atlanta from one of our North Georgia facilities, and we're proud to serve the signage needs of everyone from banks and universities to small businesses and restaurants.

Overhead Signs by the Experts

Please contact United Signs today for more information on our custom overhead signage – fill out the no-obligation contact form located at the top of the page to receive your FREE estimate or call today. We look forward to matching your business with the overhead signs that you need.