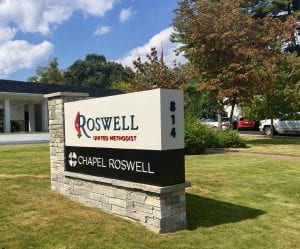 United Signs located in Peachtree Corners & Norcross, Georgia (www.UnitedSignsGA.com) is one of Metro-Atlanta's best sign manufactures. We provide the highest value, custom crafted, complete, turn-key, custom sign solutions in support of our clients, ourselves, and our community.
Roswell United Methodist Church tasked us with developing a new monument to replace there more than 30 year old existing sign. Being that RUMC is in Historic Roswell and that is in fact a very well known destination we knew we had to do something special. After several meetings, designs & detail discussions both with the RUMC and the City of Roswell we had a rendering they loved.
The monument has Cultured Stone with a flat stone cap and stone water table under the sign. The actual sign was fabricated in our Norcross, GA facility out of Aluminum and custom painted. The Dimensional letters are custom painted PVC that are direct mounted.
We are honored that RUMC selected United Signs for this wonderful project!
United Signs has the know-how and the experienced personnel to create stylish and effective monument signs. Founded in 1981 and serving clients across the Southeast from our North Georgia facilities, our monument sign company is equipped to meet the signage needs of customers of all types – we've made everything from school and education signs to business park entrances, and we're the only company to call if you need distinctive monument signage to mark the entrance to or the nearby location of your business.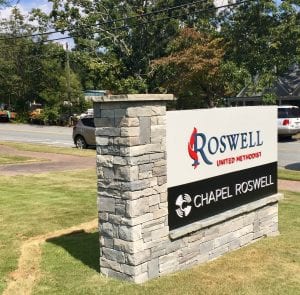 Custom-Made Monument Signs
Our staff is trained in the design, manufacture, installation and maintenance of monument signs. We'll meet with you to learn your requirements, and will create the monument sign types that meet both your business and aesthetic criteria. United Signs employs the most qualified staff and technicians, guaranteeing the maintenance and long life of your monument signage.
Our church signs experts at United Signs create and manufacture church any type of church signs. In business for over 30 years, our company knows how to create and fabricate distinctive signage that will increase your church's visibility.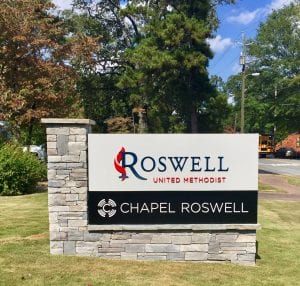 Looking for Church Signage?
Contact United Signs at 678-203-6044 or [email protected]. United Signs is known for the quality and variety of our church signs. No matter what you're looking for, we are sure to have what you need at a price that is affordable. Fill out our FREE, no-obligation inquiry form or call us for more information about signs now.