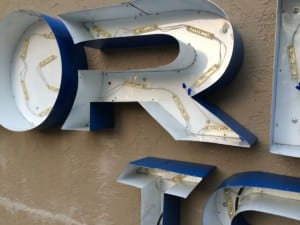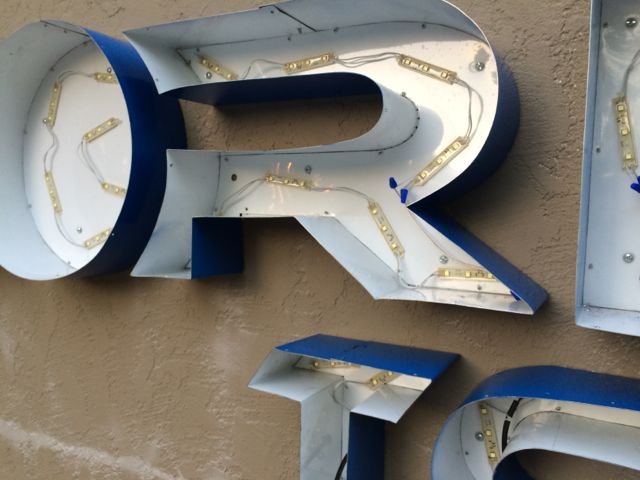 Consider letting United Signs of Peachtree Corners retrofit your Atlanta business signage to LED (light emitting diode). New LED lighting technology marks a new era in illuminated signage, and now is a good time to replace existing lighting with state-of-the-art illumination technology. You may be surprised at how cost efficient this move can be.
A large percentage of your business can be attributed to your signage, so it is important not to underestimate the impact of this form of marketing.  Poor signage can degrade your Marietta business.
Retrofitting signage for your Vinings business to LED comes with many advantages such as saving you time and money.  Consider these reasons to retrofit all your illuminated business signage:
Easy conversion. The retrofitting process can be done with very little disruption to your Norcross business operations.
Return on investment. Generally it takes only a few years to recoup your investment in new LED technology and you can begin making money from your signage very quickly.
Safety. LED lights use a relatively low voltage and thus are less of a fire hazard than other forms of illumination.
Easy to maintain. Traditional lighting systems can require frequent maintenance but LED lighting systems usually only need to be serviced every five to ten years.
Good for the environment. LED lighting contains no mercury or phosphor and can be recycled cleanly.
Long life. Your new LED lighting system can last significantly longer than traditional lighting systems.
Very efficient. There are energy cost savings associated with LED lighting because it consumes 50-90 percent less energy than traditional systems.
Respect for "being green". With environmentally safer lighting the community will appreciate your effort to be friendly to the environment.
Illuminates quickly.  LED lighting does not require time to warm up as do some traditional lighting systems.
United Signs has been providing sign design, fabrication, and installation throughout the entire Southeast for over 35 years. If you think LED lighting is for you, call United Signs of Peachtree Corners at 678-203-6044 or submit our no-obligation contact form.  Our team will be happy to retrofit your existing traditional lighting systems with state-of-the-art LED lighting.
---
UNITED SIGNS is Georgia's Premier Full Service Architectural Sign Company. We provide custom sign designs, in-house sign fabrication, and installation of every type of sign.  We service all of Metro Atlanta, and many other Georgia communities. We have designed & fabricated signs nationwide from New York to California for national chains, franchise & major corporations.  UNITED SIGNS is a provider of Corporate, commercial, Government & Institutional signage.
The UNITED SIGNS staff is a professional and talented team of designers, fabricators, and installers who take great pride in helping Georgia businesses with their sign needs.