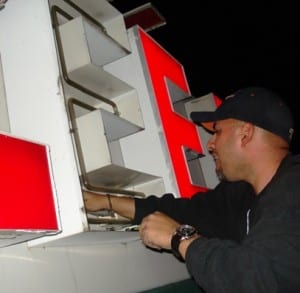 In the past few years Atlanta, as elsewhere, has experienced significant progress made in the development of lighting technologies.  In particular, for example, LED technologies have been improved to last longer and use energy more efficiently, while at the same time decreasing in price.  Older technology has been surpassed, and the lighting products of today can last three to ten years longer than the lighting of yesterday while the return on your investment can range from one to three years.  Some may always prefer the look and feel of neon signs.  But here in Peachtree Corners, we at United Signs believe another option to consider is retrofitting illuminated signage, as the benefits of technological advances in interior and exterior lighting can be realized in your choice of signage.
Use less energy: depending on the technology, a signage lighting retrofit can save at least 40% of energy being used.
Less maintenance: the cost of maintenance in Fulton or Dekalb County can be a challenge.  But the life of LED lighting, for example, can be more than three times that of its predecessors.  Longer life means less maintenance.
Looks better: new technologies just plain look better, due to better color rendering, uniformity and spread of light, and longer periods of high-level light.
Help the environment: going green may be a good idea.  If you choose to go this route, consider that a retrofit to LED lighting can eliminate harmful substances from your buildings, which is recognized to be both safe and green.
Security and Safety: let's face it, Johns Creek and Alpharetta for example are not immune to unsafe activities. Better lighting technology means a safer place to live and work.
If you are convinced or curious, call United Signs at 404-272-2633 to learn more about our retrofitting services, or submit our message form to have someone at United Signs contact you.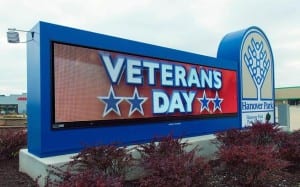 ---
UNITED SIGNS is Georgia's Premier Full Service Architectural Sign Company. We provide custom sign designs, in-house sign fabrication, and installation of every type of sign.  We service all of Metro Atlanta, and many other Georgia communities. We have designed & fabricated signs nationwide from New York to California for national chains, franchise & major corporations. 
The UNITED SIGNS staff is a professional and talented team of designers, fabricators, and installers who take great pride in helping Georgia businesses with their sign needs.