PRESS RELEASE
PEACHTREE CORNERS, GA, FEBRUARY 4, 2016 – United Signs Architectural Signage teamed up with proprietor Jesse Kauffman to bring another icon to the City of Peachtree Corners, this time for Pub Ten, an urban American style restaurant and bar tentatively set to open on Super Bowl Sunday.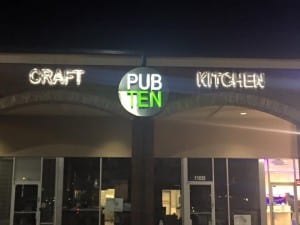 The vision of Jesse and Evan Kauffman was met with the skill of United Signs designers and resulted in another true piece of art according to United Signs owner James Lowe.  The husband and wife team has been "super with Ten Bistro and the setup of Pub Ten" Lowe said, and expressed appreciation for the nice work done by United Signs.
The sign has an industrial look made possible by the use of a brushed aluminum panel behind white and green front lit letters.  Back lit channel letters "Craft" and "Kitchen" with brushed aluminum faces flank the words "Pub Ten" complimenting the idea of a from-scratch restaurant as it was noted to be in its appeal for creative and experienced team members.
To meet an original February 2 opening date United Signs had to overcome a backlog of jobs due to the cold and wet January Lowe said. "Our fabrication time was less than five days but finding a good day to install became the challenge.  Fortunately, the weather cooperated and we got the sign installed on January 29."
United Signs is a sign company that has been providing corporate, commercial, government & institutional signage in the state of Georgia and beyond for over 25 years.  The varied projects undertaken by the firm are "very challenging but at the same time rewarding" according to Lowe.  "But the projects we do for good friends and neighbors in Peachtree Corners is special because it's here in my back yard and I get to see the art work every day."
United Signs' Peachtree Corners facility is located at 4056 Wetherburn Way, Suite 101-104, and its office can be reached at 678-203-6044.
###