PRESS RELEASE
PEACHTREE CORNERS, GA, JANUARY 30, 2016 – Hog & Ale Smokehouse of Peachtree Corners debuted its new sign built by local architectural signage firm United Signs.
The red custom made letters were fabricated in United Signs' Norcross facility over a period of two days due to its new fabrication system, according to owner James Lowe.  Signs like these are very labor intensive and take multiple fabricators dozens of hours to complete Lowe said.  "But", he continued, "our $150,000+ fabrication machines cut this process down dramatically, saving us time and money in the manufacturing process, thus getting cost effective signage to our clients in a timely manner."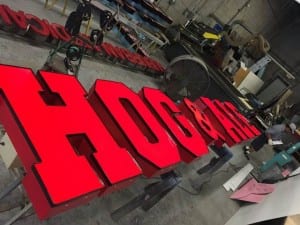 The new signage consists of a front lit channel letter system that utilizes state-of-the-art LED lighting technology which is brighter and lasts longer than any other lighting options, Lowe said.  Standard channel letters are three-dimensional letters commonly used for exterior signs that adorn the buildings of businesses and other organizations.
City of Peachtree Corners ordinances play a role in what type of signs can be installed around the city.  In the case of Hog & Ale Smokehouse, Lowe said, co-owner Jason Deems, the designers, and the project manager of United Signs collaborated to create the biggest, visually impactful sign the City's ordinances would allow.
"I am thrilled with the final product" said Deems.  "It has done exactly what we were trying to accomplish."
The barbeque restaurant is located at Peachtree Parkway and Spalding Drive in Peachtree Corners and offers catering and spirits along with its selection of smoked meats and sides.
United Signs designs, fabricates, and installs architectural signage, as well as providing graphic design and logo creation services.  Its Peachtree Corners facility is located at 4056 Wetherburn Way, Suite 101-104, and its team can be reached at 404-272-2633.