United Signs Architectural Signage in Peachtree Corners is the Southeast's top supplier of overhead signs to a variety of organizations. From airports such as Atlanta's Hartsfield-Jackson International airport, and hospitals such as Emory Johns Creek hospital, you will find these useful signs directing visitors to their destination. In fact, overhead signage can serve many purposes, including:
Wayfinding – giving people direction where there are many corridors is a common one. They can guide employees and visitors to common destinations.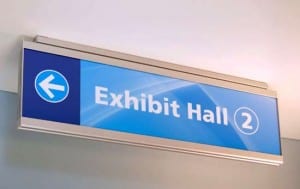 Overhead signs can direct people to the location of elevators.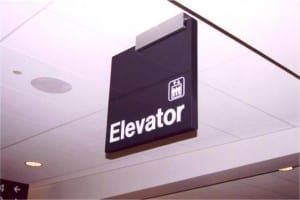 Another popular use for overhead signage is to direct people to their seating sections in large venues or stadiums.
Overhead signs can be used in a school setting to show students and teachers to the proper classroom or department.
Overhead signs can be used to show the name of your business to passers-by.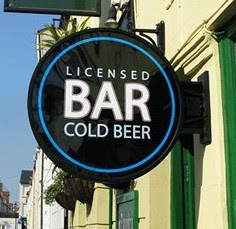 Churches are making use of overhead signage, for example in Alpharetta mega-churches where visitors need to find the place for services or for child care rooms.
Retail stores are another good example for the use of overhead signage. Such signage can direct shoppers to the proper departments in large department stores in Gwinnett County.
Overhead signs can be mounted directly onto the ceiling, or can be made to extend out from a wall. They can be suspended from the ceiling with aircraft cables or mounting posts. Some can be designed to contain interior illumination. They can easily complement the décor of a venue, and are a great supplement to wall-mounted directories.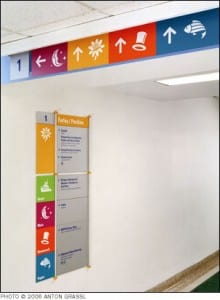 Attract attention or provide information with overhead signage fabricated by a sign company you can depend on for a multitude of overhead signage solutions. Call United Signs of Peachtree Corners at 678-203-6044 or submit our no-obligation contact form. Our team will be happy to assist you.
---
UNITED SIGNS is Georgia's Premier Full Service Architectural Sign Company. We provide custom sign designs, in-house sign fabrication, and installation of every type of sign. We service all of Metro Atlanta, and many other Georgia communities. We have designed & fabricated signs nationwide from New York to California for national chains, franchise & major corporations. UNITED SIGNS is a provider of Corporate, commercial, Government & Institutional signage.
The UNITED SIGNS staff is a professional and talented team of designers, fabricators, and installers who take great pride in helping Georgia businesses with their sign needs.