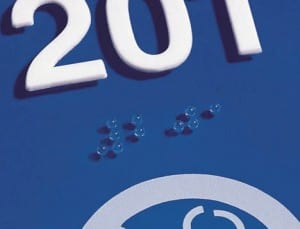 ADA stands for the "Americans with Disabilities Act" by which the federal government has required certain organizations to make their places of business more friendly, or accessible, to persons with disabilities.  Hence ADA signage refers to signs that are fabricated and installed according to the regulations established by the ADA. These provide valuable information that helps persons with disabilities navigate the both the simple and complex premises of Atlanta companies.
Almost all new buildings, including but not limited to movie theaters, offices, hospitals, schools, government buildings, and shopping centers are required by the ADA to have appropriate signage for the disabled. The signs are usually also require when an older facility is renovated or remodeled.
ADA signage can be considered "exterior" and "interior".  Exterior ADA signage guides persons to accessible places to park near the entrance to a facility.  It may also guide them through a special route with sidewalk markings and/or ramps to a door that is big enough for a wheelchair or similar vehicle to fit through.
Interior ADA signage is primarily for those who have difficulty seeing, though you will still see the familiar wheelchair symbol marking places that can accommodate the wheelchairs such as restrooms or hotel rooms. Those signs that are for the visually impaired usually bear raised lettering and/or braille dots which help such persons identify areas of a building or facilities such as elevators that are accessible to the public.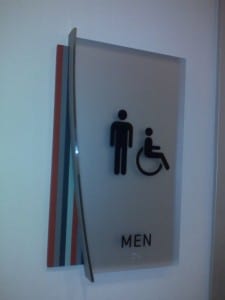 ADA standards change and if a Marietta building was in compliance several years ago it is not necessarily the case that the building is still in accordance with the ADA regulations.  If you have questions as to whether you are in compliance, check with our experienced team at United Signs and it will ensure your Tucker facility is properly marked with ADA signage.
Why follow the ADA?  For one thing, your Vinings business stands to be liable if for example someone is injured on your property due to lack of accessibility.  Moreover, even if you are not strictly required to display certain signs, it might be very helpful to those with disabilities if you did so and your desire to be generous might be your motivation. You may even gain a good reputation for being concerned and accommodating to those who need help.
United Signs of Peachtree Corners has been providing ADA signage to businesses in Georgia and throughout the Southeast for over 35 years and can fabricate and install both exterior and interior ADA signage.  Moreover we customize the signs and plaques so that they are visually appealing and compliment the architecture and décor of your Duluth building.
Call United Signs of Peachtree Corners at 678-203-6044 or submit our no-obligation contact form.  Our team will be happy to assist you with all of your ADA signage needs.
---
UNITED SIGNS is Georgia's Premier Full Service Architectural Sign Company. We provide custom sign designs, in-house sign fabrication, and installation of every type of sign.  We service all of Metro Atlanta, and many other Georgia communities. We have designed & fabricated signs nationwide from New York to California for national chains, franchise & major corporations.  UNITED SIGNS is a provider of Corporate, commercial, Government & Institutional signage.
 The UNITED SIGNS staff is a professional and talented team of designers, fabricators, and installers who take great pride in helping Georgia businesses with their sign needs.