PRESS RELEASE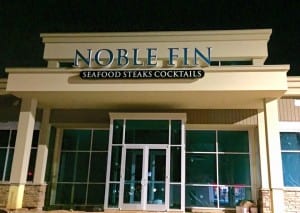 PEACHTREE CORNERS, GA, JANUARY 24, 2016 – United Signs of Peachtree Corners has finished the installation of the exterior sign for Noble Fin restaurant, a new establishment in Peachtree Corners scheduled to open in the spring of 2016.
The front and back lit LED (light-emitting diode) sign was ten days in production at United Signs' Norcross facility.  "We are very proud of our fabrication times" said owner James Lowe.  "When most sign company's [fabrication times] take up to 30 days we can do it in half the time in most cases" Lowe continued.
Using acrylic, day night vinyl mounted on a raceway, United Signs produced not only a sign but a work of art according to Lowe.  "Being that it is not just a 'sign' but a piece of art we took a lot of pride in every detail" Lowe said.  "Also, because Noble Fin is located in a very prominent visibility location in Peachtree Corners the client wanted it to be very special."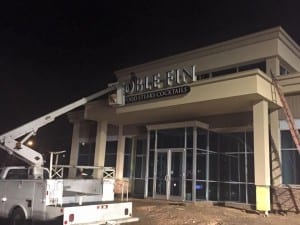 The restaurant will be located at 5260 Peachtree Parkway and according to its website will be a contemporary American and Mediterranean inspired restaurant and bar.
United Signs designs, fabricates, and installs architectural signage, as well as providing graphic design and logo creation services.  Its Peachtree Corners facility is located at 4056 Wetherburn Way, Suite 101-104, and its team can be reached at 404-272-2633.
###