Restaurants are plentiful in Atlanta and there are many to choose from; there are also many types of foods to choose from – Italian, Asian, Greek, steaks, ribs, and more.  If you are a restaurant owner you know it is not an easy business, and new competition seems to spring up every day.  So, how can you distinguish yourself from that competition?  How can you make yourself stand out?  One way to do this is by your restaurant signage.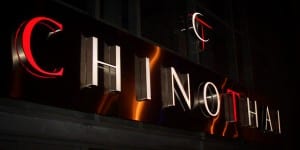 How it Can Help
It's easy to take the signage in your Cobb County restaurant for granted, and even to believe it is unimportant.  With all that has to be done running the restaurant, the signage can easily fall by the wayside or become quite low on your list of priorities.  But let us remind you of just a few ways your restaurant signs help:
They make your brand recognizable
They greatly affect the ambiance of your restaurant
They can help the business run more efficiently
They attract attention from passers-by and can draw new customers to your establishment
They make an impact on your bottom line
Types of Restaurant Signage
Many types of signage are useful in your Buckhead eatery, and a reputable sign company like United Signs can fabricate them all.  Let us here mention them in two classes, interior and exterior.
The interior restaurant signage includes illuminated and non-illuminated menu boards and displays, as well as wall and floor graphics.  All of these are helpful for making your brand known and for making dining at your Johns Creek restaurant a pleasant experience. Your interior signage will be important not only for the look and the effect they have on the ambiance, but for how easy they are to use. For example, with digital menu boards you can easily and quickly update them, changing and highlighting items as you wish.
The exterior restaurant signage includes both illuminated and non-illuminated building signs, banners, custom awnings, LED displays, and window graphics, to name a few.  The beauty of your exterior signage is clearly important and can express the quality of the establishment and draw new customers to it.
Tips
The visibility of your signage is key and is influenced by things like the colors, images, style of lighting, and contrast with the background.  Local regulations and ordinances will have to be taken into account and will affect the size and shape of your signage, and United Signs experienced staff will ensure you are compliant with all regulations. The visual message you communicate should be attractive and indicate something of the experience your customers will have when they dine in your establishment.  Colors and fonts are very important, as well as consistency in all of your signage.
Questions? Call United Signs of Peachtree Corners at 678-203-6044 or submit our no-obligation contact form.  Our team will be happy to assist you with the design, installation, and maintenance of all your restaurant signage.
---
UNITED SIGNS is Georgia's Premier Full Service Architectural Sign Company. We provide custom sign designs, in-house sign fabrication, and installation of every type of sign.  We service all of Metro Atlanta, and many other Georgia communities. We have designed & fabricated signs nationwide from New York to California for national chains, franchise & major corporations.  UNITED SIGNS is a provider of Corporate, commercial, Government & Institutional signage.
 The UNITED SIGNS staff is a professional and talented team of designers, fabricators, and installers who take great pride in helping Georgia businesses with their sign needs.